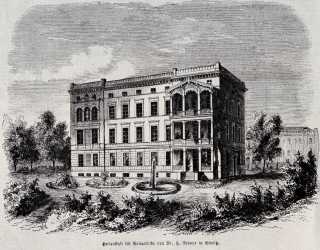 "Nursing Home for Epileptics" in Görlitz
Hermann Andreas Reimer (1825-1906), a doctor born in Berlin, opened the first "Heilanstalt für Epileptische" ('Nursing Home for Epileptics') on August 1st 1855.
The building was in a lonely country area at the foot of the Obermühlberg near Görlitz, 30 km east of Dresden. The house was built around the middle of the 19th century in the Italian Villa style typical of this period.
At first, the home was intended to tend to the needs of twelve patients with epilepsy from affluent families. A place in the home cost 30 Friedrichsd'or per year and had to be paid six months in advance.
» continue...
"Nursing Home for Epileptics" in Görlitz
Deutsches Epilepsiemuseum Kork