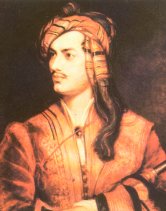 Lord Byron, English Poet (1788 - 1824)

In his aphorism Self-flight, Nietzsche writes: 'Consider that four of the men who were most thirsty for action in all history were epileptics (namely Alexander, Caesar, Mohammed and Napoleon), and that Byron was also subject to this infliction.'

Did Lord Byron really have epilepsy? If one searches through the biographies of the greatest English Romantic poet - either to find evidence to support or prove wrong Nietzsche's opinion - one finds passages in a few places which suggest that Byron might possibly have suffered epileptic seizures.


» continue...