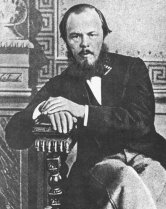 Fyodor Mikhaylovich Dostoyevsky, Russian Writer (1823 - 1881)
Fyodor Mikhaylovich Dostoyevsky is without doubt the most well-known of all famous people who had epilepsy. Dostoyevsky's illness is a known fact to many people who otherwise have no knowledge of epilepsy, and indeed, for many people, reading Dostoyevsky's works is the first intensive contact that they have with a person with epilepsy.

More than anyone else, Dostoyevsky used his own illness and the suffering that went with it as a theme in his writing. The writer made many people in his stories and novels have epilepsy. The most well-known figure is Prince Myshkin in the novel 'The Idiot'. This character also reveals most about Dostoyevsky's own illness.
» continue...