Cauterisation (15th century)
---
We thank Professor Cigdem Ozkara (Istanbul)
for providing us this picture.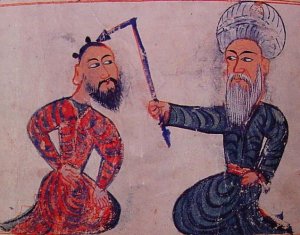 Museo alemán de epilepsia en Kork
www.epilepsiemuseum.de
Image taken from the first medical textbook "Cerrahiyyet'ül Haniyye", written in Ottoman languageby the Turkish surgeon Serafettin Sabuncuoglu.
From the Ancient World to the Middle Ages, cauterisations were also used in the treatment of epilepsy.